Cleaning the Nozzle and Venturi
A clean nozzle and venturi are important for your water softener to work properly. This small unit creates the suction to move brine from the brine tank into the resin tank. If it should become plugged with sand, silt, dirt, etc., the conditioner will not work and you will get hard water.
To get to the nozzle and venturi remove the top cover. Be sure the unit is in its normal operating cycle/soft water cycle (no water pressure at nozzle and venturi). Then, holding the nozzle and venturi housing with one hand, turn off the cap. Do not lose the O-ring seal. Lift out the screen support and screen. Then remove the nozzle and venturi.
Wash the parts in warm, soapy water and rinse in fresh water. If needed, use a small brush to remove iron or dirt. Be careful not to scratch, misshape, etc., surfaces of the nozzle and venturi. Also, check and clean the gasket and flow plug(s).
Carefully replace all parts in the correct order. Lubricate the O-ring seal with silicone grease and locate in position. Install and tighten the cap, by hand only. Do not over-tighten and break the cap or housing.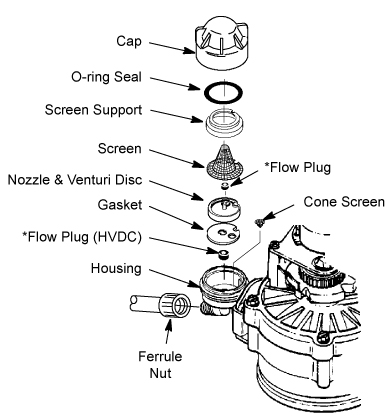 Breaking A Salt Bridge
Sometimes a hard crust or "salt bridge" forms in the brine tank and leaves a hollow area below this salt in your water softener, usually caused by high humidity or using the wrong kind of salt.  When the salt bridges, the salt is unable to dissolve in the water beneath to make a brine. Without the brine, the resin bed does not regenerate and you will have hard water.
If the storage tank is full of salt, it is hard to tell if you have a salt bridge. Salt is loose on top, but the bridge is under it. Take a broom handle, or like tool, and push it straight down into the salt. If a hard object is felt, it's most likely a salt bridge. Carefully push into the bridge in several places to break it. DO NOT use any sharp or pointed objects to break a salt bridge as you may puncture the tank.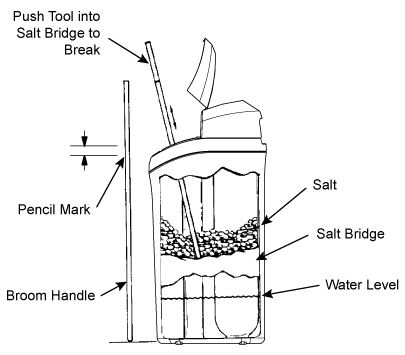 If you're experiencing other issues please visit our Troubleshooting Guide or contact Customer Service for additional help.
We recommend regular use of Morton Clean and Protect™, Clean and Protect™ Plus Rust Defense™ or Morton Pure and Natural™ salt in all water softeners.